Important Steps to Take When Your Business is Being Sued
July 19, 2022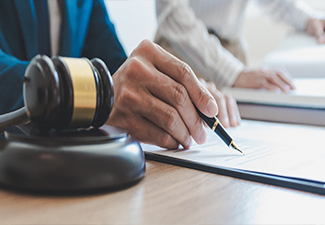 If you run a business, the unexpected – and unwanted – can happen at any time. A supplier, a customer, a partner, an employee, or another party may slap you with a Statement of Claim. In other words, your business may suddenly be facing the prospect of a lawsuit.
What you do next can have a huge impact on the operation of your business going forward. If you move smartly, you can increase your chances of settling or prevailing in court. If you react emotionally or without solid legal advice, you may do just the opposite – and jeopardize your chances.
If your business in or around Toronto, Ontario, or in Hamilton, London, or Ottawa, is facing a lawsuit, contact Matthew R Harris Law P.C. As an experienced commercial and business litigator, Matthew Harris will guide you every step of the way to preserve your rights and enhance your chances of obtaining the best possible outcome.
Common Business Lawsuits
When you run a business, you normally have contact and professional dealings with many different persons and entities. You may, for instance, outsource your bookkeeping and tax compliance to an outside firm, or your business may be such that it depends on others to supply you with goods to resell. In these situations, you will generally enter into a contract.
If one person or entity – you or the other – fails to live up to its part of the agreement, then what results can be called a breach of contract, and if deemed serious enough, one party may sue the other for economic or other losses. This is certainly one large source of potential lawsuits for your business.
If you have partners, one may decide that he or she disagrees with the way the company is being operated and file suit over the issue, claiming to be unheard while the company is being mismanaged. Employees can also prove litigious. Discrimination, retaliation, and wrongful termination all pose legal risks.
If your business is open to the public and a customer slips and falls, resulting in injuries, a premises liability/personal injury lawsuit may ensue (though in this case, your liability insurance should generally help cover matters).
What to Do If Sued
The first action if your business is being sued is to contact a knowledgeable lawyer to guide you, and remember, the time frame is short. Once you receive a Statement of Claim, you have just 20 days to respond with your defense to the claim. You can alternately file a counterclaim. If you need more time, then you'll need to file a Notice of Intent to Defend.
You need to be open and honest with your lawyer. Give him or her access to the files, documents, emails, text messages, letters, videos, electronic data, or anything else involved in the case. If it's a breach of contract, then a written contract – as opposed to an oral contract – is the best defense.
Conduct an internal investigation into the matter alongside your lawyer. Interview employees and others as necessary to find out all the facts.
You also should discuss with your lawyer the possibility of negotiating to settle the matter, or whether to pursue alternative dispute resolution (ADR) methods such as mediation. In some cities like Toronto and Ottawa, mandatory mediation is often ordered before a lawsuit can be heard in court.
What Not to Do
Don't react emotionally and do things that can come back to haunt you should matters go to trial. Don't say or do anything derogatory or negative in public or on social media about the plaintiff who is suing you. This will only be used against you in mediation or in court.
Certainly, don't try to hide or destroy relevant evidence. Do the opposite: accumulate all the evidence you have and work with your lawyer on a focused approach to resolving the lawsuit. Following the advice and guidance of your lawyer is no doubt the most important consideration.
How a Skilled Lawyer Can Help
Needless to say, lawsuits are serious business. If you're involved in one, it will require time away from running your business if matters end up in court, and even before that, your focus will have to be largely on defending your business. Don't go it alone, even for a moment. The first step to take is to contact a knowledgeable and experienced lawyer.
In Toronto and surrounding areas, rely on Matthew R Harris Law P.C. He will work with you closely and guide you every step of the way to increase your chances of obtaining the best possible result.