Protecting Your Interests in a Partnership Dissolution
Jan. 25, 2023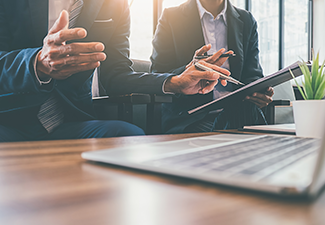 One of the ways to form a business in Canada is through a partnership. Unlike a corporation, however, a partnership is not a separate entity, so the partners themselves are liable for any debts or legal obligations. Dissolving a partnership can thus become somewhat problematic if the business faces solvency issues. The partners will be held liable.
The formation of partnerships in the Province of Ontario is governed by the Partnerships Act, which defines a partnership as "the relation that subsists between persons carrying on a business in common with a view to profit..."
The act goes on to list the defining characteristics of a partnership, and then asserts: "Persons who have entered into partnership with one another are, for the purposes of this Act, called collectively a firm, and the name under which their business is carried on is called the firm name."
While written partnership agreements are generally not required except in Quebec, they are strongly recommended, and provisions should be included in the agreement about dissolution of the partnership, especially as it concerns what to do if one partner decides to opt out of the firm.
If you are involved in a partnership in or around Toronto, Ontario, and your firm is facing dissolution because one partner has decided to call it quits, contact Matthew R Harris Law P.C. There may be financial and legal considerations that need to be observed and honored, and Lawyer Matthew Harris is experienced in all phases of business law. He will protect your rights and interests.
The firm also proudly serves businesses in Hamilton, London, and Ottawa.
Common Reasons for Dissolving a Partnership
The Partnerships Act actually lists three main reasons for the dissolution of a partnership:
First, if the partnership was created as a fixed-term entity – for instance, just for one year – then it will dissolve automatically after the term expires.

Second, if the partnership was formed toward a single goal – for instance, constructing an office building – then the partnership will dissolve when that goal has been fulfilled.

Third, for a long-term partnership, the organization can be dissolved by one partner giving notice to all other partners of his or her intention to dissolve the partnership.
Other officially cited reasons for a dissolution involve the death of one partner, a court order, or due to the illegality of the business, which is defined as "any event that makes it unlawful for the business of the firm to be carried on or for the members of the firm to carry it on in partnership."
What if a Dispute Threatens the Partnership?
As everyone in business knows, disputes can be the catalyst to company disruption and even dissolution. Thus, as noted earlier, disputes and other potential internal disagreements or problems should be addressed in a written partnership agreement. A partnership agreement can provide a means for the other partners to buy out a partner who is disrupting operations or who voluntarily chooses to retire or move in a different direction in life.
If there is no such written provision, a partner can use the Partnerships Act and send a notice of dissolution to the other members. This, of course, is going to create havoc and is not a step that should be taken lightly. If you as a partner want out, consult with a lawyer first to weigh all your options. A mutually-amicable agreement with the other partners might be the best option.
Fiduciary Responsibility of Partners
Under Canadian common law, partners owe a fiduciary duty to each other. This means that, even in the face of a dispute or pending dissolution, a partner is expected to place the company's interests above their own. No partner should steal customer information, clear out bank accounts, or defame other partners.
Also, as the Partnerships Act states, "every partner in a firm is liable jointly with the other partners for all debts and obligations of the firm incurred while the person is a partner…."
This means that, upon dissolution, all partners are responsible for any outstanding debts unless any of those obligations were "for a purpose apparently not connected with the firm's ordinary course of business…." In other words, if one partner takes on credit obligations for personal use or gain, the other partners are not bound by the act.
Reach Out to Protect Your Rights and Interests
If you're entering into a partnership or are already involved in one and a dispute erupts – or one partner gives notice of dissolution – you need to seek legal guidance and counsel to protect your rights and interests.
If you're looking to enter a partnership, make sure there is a written agreement that covers all eventualities. If you're looking to exit a partnership, you need to follow that written agreement. If there is none, seek qualified legal advice before resorting to something as drastic as a notice of dissolution. And if a notice of dissolution has already been issued, you need to act fast and weigh all your legal options.
For all your business and commercial litigation concerns and needs in or around Toronto, Ontario, contact Matthew R Harris Law P.C. We can help you with mediation and arbitration as well as litigation. Reach out immediately and let's chart a clear path forward to resolve your situation and achieve your goals.